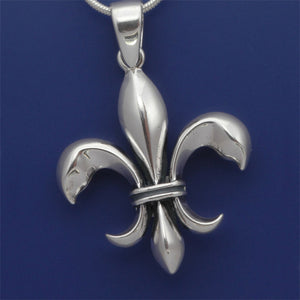 Inspired by a decorative Fleur De Lis carved in stone on the facade of a Beaux Arts building at Spring Street and Broadway in New York.

Our unique Fleur de Lis Pendant is made from Sterling Silver, and is double sided: the design on the back is the same as the front.

This unique piece of Fleur De Lis Jewelry is a classic piece and oddly enough the same Beaux Arts designs you see decorating buildings on Spring Street in New York, can be found decorating buildings here in New Orleans a well.
Chains and cords sold separately please browse our collection.

Size: 1.25 x 0.87 inches