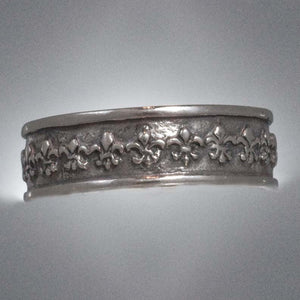 This band of sterling silver has a ring of fleur de lis, shoulder to shoulder, all around it. These fleurs are not head to tail (if you are looking for that see our Intaglio Fleur de Lis Ring)-- but side by side.

This design of the fleur de lis, on this ring, was inspired by a fleur de lis we saw, in stucco, on a crumbling old building-- since torn down-- just off St Charles Avenue.

Size: Band is 1/4 inches wide all the way around.