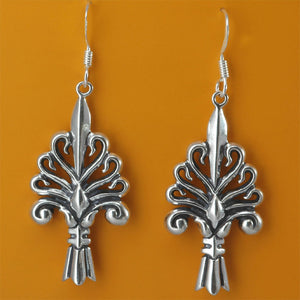 Inspired by the decorative finial on top of the cast iron fence that surrounds Jackson Square park, in front of St Louis Cathedral, New Orleans, we created the Jackson Square Earrings. The fence is an icon of New Orleans' design heritage, created in 1851--and everyone will want to know the story behind this classic design, whenever you wear it. So if you love the heritage of New Orleans, these are the earrings for you.
Sterling Silver-- double sided design. See the matching pendant.
Fleur d lis earrings are a must for visitors and residents alike--and Fleur d' Orleans has the largest collection of Fleur de Lis Jewelry you will find anywhere. Every piece of Fleur de Lis jewelry that we sell is one of our own designs, backed by our satisfaction guarantee. We pride ourselves on customer satisfaction so if you are ever unhappy with any purchase, please let us know so we can make it right for you.
Size 1.87 x .62 inches