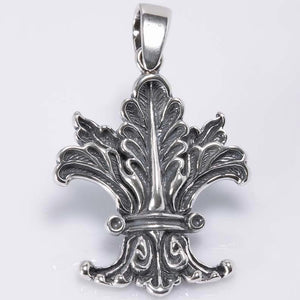 New York City has architectural details-- from the Beau Arts period so celebrated in New Orleans-- that rival or some (New Yorkers) might say exceed, even the wonders of New Orleans. Manhattans' famous Flat Iron building, at Fifth Avenue and Broadway is adorned with spectacular Beau Arts decorative details. High up on the building you can see a spectacular Fleur De Lis design. Our Flat Iron Fleur De Lis Pendant @ Broadway, is inspired by a Fleur De Lis that lives about 9 floors up on the Flat Iron building. You need binoculars (or a 500 MM lens) to see this one. Hhowever, as a unique Sterling Silver Fleur De Lis pendant, you can celebrate the Flat Iron Fleur De Lis!

Celebrate New York and New Orleans with this unique piece of Fleur De Lis Jewelry.

Sterling Silver Fleur De Lis Pendant carved on back as well with a leaf pattern: click on photos to right to see back of pendant and the design that inspired us, on the Flat Iron Building.

Size: 1.25 x .75 inches
Fleur d lis Jewelry is a must for visitors and residents alike--and Fleur d' Orleans has the largest collection of Sterling Silver Fleur de Lis Jewelry you will find anywhere. Every piece of Fleur de Lis jewelry that we sell is one of our own designs, backed by our satisfaction guarantee. We pride ourselves on customer satisfaction so if you are ever unhappy with any purchase, please let us know so we can make it right for you.