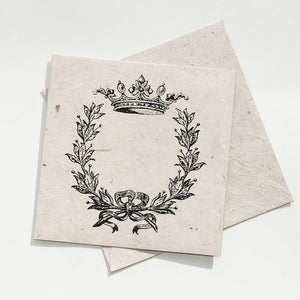 Perfect for the Mardi Gras season!
Each folding card is 5 x 5 inches, crafted from hand made paper. Undyed this luxuriously thick, hand made card is made from three sheets of paper.

The inside is a fine unbleached, hand made white paper-- suitable for inscribing your personal note.

The card is opens on the right side. A crisp and thick handmade paper envelope is included for each card.

The fine handmade paper in the card and envelope is made using 80% sustainably harvested Himalayan Lokta bark. This traditional Lokta paper is often called "Rice Paper" in the west, but has never been made from rice stalks.

This price is for a set of 5 cards with envelopes,
Designed by Fleur d' Orleans, made in Nepal: available exclusively at Fleur d' Orleans.