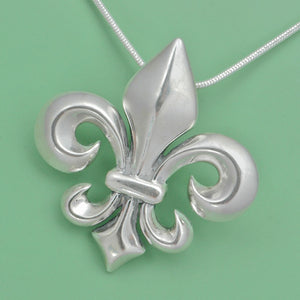 Larger than the Louisiana Fleur De Lis Pendant, the Dauphine Street Fleur is similar, but based on a design used by the princes of France-- the 'Dauphine'. Dauphine Street in New Orleans draws on this history for its name.
This piece of sterling silver Fleur De Lis Jewelry is a unique expression of the design heritage of New Orleans.
Chains and beads are sold separately-- please browse our collection.

Sterling Silver Fleur De Lis pendant, bail/loop on back suitable for beads or a thick chain.
Size: 1.25" x 1.25"